Биоразнообразие бактериальных ансамблей в бурозёме элювиированном под сосной корейской
Наталья Борисовна Наумова

ФГБУН Институт почвоведения и агрохимии СО РАН, 630090, Новосибирск, проспект Академика Лаврентьева 8/2, Россия

https://orcid.org/0000-0003-2354-5065

Татьяна Юрьевна Аликина

ЦКП «Геномика» ФГБУН Институт химической биологии и фундаментальной медицины СО РАН, 630090, г. Новосибирск, проспект Академика Лаврентьева 8, Россия

Галина Васильевна Кузнецова

ФГБУН Институт леса им. В.Н. Сукачева ФИЦ КНЦ СО РАН, Академгородок, 50, стр. 28, Красноярск, 660036, Россия
Ключевые слова:
Haplic Cambisol, метагеномные исследования, ризосфера, Pinus koraeansis, 16S рДНК, бурозём элювиированный, сосна корейская
Аннотация
Цель исследования: Целью работы было изучение генетического разнообразия и структуры бактериальных ансамблей бурозема элювиированного и выявление их взаимосвязи с почвенно-химическими и почвенно-микробиологическими свойствами.
Место и время проведения. Образцы валовой и ризосферной части бурозёма элювиированного отобрали осенью 2014 года из слоя 0-20 см (сразу под подстилкой) с делянок длительного полевого опыта с сосной корейской в Хабаровском крае.
Методология. Отбирали образцы валовой почвы, а также почвы ризосферы корней сосны путем осторожного встряхивания корней и сбора оставшейся на них почвы. В отобранных образцах почвы определяли химические (pH, содержание органического вещества, обменных форм питательных элементов) и микробиологические (содержание биомассы почвенных микроорганизмов, базальное и субстрат-индуцированное дыхание почвы) свойства, а также экстрагировали метагеномную ДНК. Эту ДНК использовали в качестве матрицы для амплификации гипервариабельных районов (V3-V4) генов 16S рРНК с помощью универсальных бактериальных праймеров; ампликоны секвенировали с помощью Illumina MiSeq. Полученные последовательности идентифицировали до индивидуальных операционных таксономических единиц (ОТЕ) на уровне сходства 97%. Далее матрицы данных с обилием ОТЕ анализировали с помощью методов анализа главных компонент, многомерного шкалирования и дисперсионного анализа. Также рассчитывали индексы α- и β- разнообразия.
Основные результаты. В бактериальных ансамблях бурозёма элювиированного под сосной корейской в естественных для нее условиях было выявлено 400 ОТЕ, из которых 42 являлись доминантными, т.е. имели вклад ≥1% в общее число последовательностей. Основными типами являлись Acidobacteria (34% общего числа последовательностей), Proteobacteria (25%) и Actinobacteria (9%). При этом видовое богатство бактериальных ансамблей было определено первым доминирующим типом, а выравненность – вторым доминирующим типом. Основными классами оказались Alphaproteobacteria (21%), группа 1 Acidobacteria (13%) и Ktedonobacteria (12%). Среди первых 5 доминантных ОТЕ две ОТЕ встречались во всех образцах, и это были ОТЕ, относящиеся к Rhizobiales, т.е. азотфиксирующим бактериям. Индексы α-разнообразия не отличались между образцами, а индекс β-разнообразия были больше для образцов с разных делянок, чем для образцов валовой и ризосферной почвы.
 Заключение. Впервые выявлен состав бактериальных ансамблей бурозёма элювиированного под сосной корейской в искусственном моновидовом фитоценозе, но в естественных для этого вида условиях окружающей среды. Доминирование азотфиксирующих организмов в почве под сосной корейской свидетельствует об особой важности азотфиксации для роста и развития этого высокопродуктивного вида. Впервые выявленная положительная связь видового разнообразия ансамблей почвенных бактерий с содержанием микробиального углерода в органическом веществе почвы важна для расширения диапазона значимости этого показателя как стандартного индикатора качества почвы.
Скачивания
Данные скачивания пока не доступны.
Литература
Vyvydtsev N.V., Somov E.V.Tyutrin S.A., Koboyashi R. Bioecological and morphometric characteristics of cedar pine forests in Khabarovsk krai, Forest taxation and forest management, 2012, V.2 ,Iss.40, P. 27-34. (in Russian)
Iroshnikov A. I. Geographical cultures and plantations of coniferous species in Siberia. Novosibirsk, 1977. PP. 104-110. (in Russian)
Classification and diagnostics of soils in Russia / Сompilers: Shishov L.L., Tonkonogov V.D., Lebedeva I.I., Gerasimoiva M.I.. Smolensk: Oykumena Pubs, 2004. (in Russian)
Kuznetsova G.V. Growth, status and development of cedar pines in provenance experiments in the south of Krasnoyarsk region, The coniferous of the boreal zone, 2010, V. XXVII, Iss.1-2, p. 102-107. (in Russian).
Popov A.G. The initial introduction of some 5-needle pine species on the south forest part of Western Siberia, Conifers of the Boreal Area, 2010, V. 27, p.169 -174.
Angst G., Kögel-Knabner I., Kirfel K., Hertel D., Mueller C.W. Spatial distribution and chemical composition of soil organic matter fractions in rhizosphere and non-rhizosphere soil under European beech (Fagus sylvatica L.), Geoderma, 2016, V. 264, Part A, p.179-187. doi:10.1016/j.geoderma.2015.10.016.
de Araujo A.S., Bezerra W.M., Dos Santos V.M., Rocha S.M., Carvalho N.D., de Lyra M.D., Figueiredo M.D., de Almeida Lopes Â.C., Melo V.M. Distinct bacterial communities across a gradient of vegetation from a preserved Brazilian Cerrado, Antonie, Van Leeuwenhoek, 2017, V. 110, Iss.4, p.457-469. doi: 10.1007/S10482-016-0815-1.
Augusto L., De Schrijver A., Vesterdal L., Smolander A., Prescott C., Ranger J. Influences of evergreen gymnosperm and deciduous angiosperm tree species on the functioning of temperate and boreal forests, Biological Reviews, 2015, V. 90, Iss. 2, p.444–466. doi: 10.1111/brv.12119
Bach E.M., Williams R.J., Hargreaves S.K., Yang F., Hofmockel K.S. Greatest soil microbial diversity found in micro-habitats, Soil Biol Biochem, 2018, V.118, p. 217-226. doi:10.1016/j.soilbio.2017.12.018.
Baldrian P. Forest microbiome: diversity, complexity and dynamics, FEMS Microbiology Rev., 2017, V. 41. Iss.2, p.109–130. doi: 10.1093/femsre/fuw040.
Blagodatskaya E., Kuzyakov Y. Active microorganisms in soil: Critical review of estimation criteria and approaches, Soil Biol. Biochem, 2013, V.67, p.192-211. doi: 10.1016/J.SOILBIO.2013.08.024.
Brookes P.C., Landman A., Pruden G., Jenkinson D.S. Chloroform fumigation and the release of soil-nitrogen - A rapid direct extraction method to measure microbial biomass nitrogen in soil, Soil Biol. Biochem, 1985, V. 17, Iss.6,, p. 837-842. doi:10.1016/0038-0717(85)90144-0.
Bünemann E.K., Bongiorno G., Bai Z., Creamer R.E., De Deyn G., de Goede R., Fleskens L., Geissen V., Kuyper T.W., Mäder P., Pulleman M. Sukkel W., van Groenigen J.W., Brussaard L. Soil quality – A critical review, Soil Biol. Biochem, 2018, V. 120, p.105-125. doi:10.1016/j.soilbio.2018.01.030.
Catão E.C. P., Lopes F. A. C., Araújo J. F., et al., "Soil Acidobacterial 16S rRNA Gene Sequences Reveal Subgroup Level Differences between Savanna-Like Cerrado and Atlantic Forest Brazilian Biomes, International Journal of Microbiology, 2014, V. 2014,Article ID 156341, 12 pages. doi:10.1155/2014/156341.
Coleman D.C. Through a ped darkly – an ecological assessment of root soil-microbial-faunal interactions, Ecological Interactions in the Soil: Plants, Microbes and Animals. Oxford: Blackwells, 1985. p.1-21.
Du Z., Riveros-Iregui D.A., Jones R.T., et al. landscape position influences microbial composition and function via redistribution of soil water across a watershed, Applied and Environmental Microbiology, 2015, V.81, Iss. 24, p.8457-8468. doi:10.1128/AEM.02643-15.
Edgar R.C. Search and clustering orders of magnitude faster than BLAST, Bioinformatics, 2010, V.26, Iss.19, p. 2460-2461. doi:10.1093/BIOINFORMATICS/BTQ461.
Edgar R.C. UPARSE: highly accurate OTU sequences from microbial amplicon reads, Nat Methods, 2013, V.10, Iss. 10, p. 996–998. doi: 10.1038/NMETH.2604.
Edgar R.C. UNOISE2: Improved error-correction for Illumina 16S and ITS amplicon reads, bioRxiv. 2016a. doi:10.1101/081257.
Edgar R.C. SINTAX, a Simple Non-Bayesian Taxonomy Classifier for 16S and ITS Sequences, bioRxiv. 2016b. doi:10.1101/074161.
Eichorst S. A., Kuske C. R., Schmidt T. M. Influence of plant polymers on the distribution and cultivation of bacteria in the phylum Acidobacteria, Appl. Environ. Microbiol., 2011, V.77, Iss. 2, p. 586–596. doi: 10.1128/AEM.01080-10.
Eichorst S.A., Trojan D., Roux S., Herbold C., Rattei T., Woebken D. Genomic insights into the Acidobacteria reveal strategies for their success in terrestrial environments, Environmental Microbiology, 2018, V.20, Iss.3, p.1041-1063. DOI:10.1111/1462-2920.14043.
Fierer N., Bradford M. A., Jackson R. B. Toward an ecological classification of soil bacteria, Ecology. 2007, V.88, p.1354–1364. doi:10.1890/05-1839.
Falchini L., Naumova N., Kuikman P.J., Bloem J., Nannipieri P. CO2 evolution and denaturing gradient gel electrophoresis profiles of bacterial communities in soil following addition of low molecular weight substrates to simulate root exudation, Soil Biol. Biochem., 2003, V.35, p.775-782. doi:10.1016/S0038-0717(03)00105-6.
FAO. FAO Global Forest Resources Assessment-2015. Country Report. Russian Federation. 2015.
Fauth E., Bernardo J., Camara M., Resetarits Jr. W.J., Van Buskirk J., McCollum S.A. Simplifying the Jargon of Community Ecology: A Conceptual Approach, The American Naturalist, 1996, V.147, Iss.2, p.282-286.
Field guide for Russian soil. Moscow: Dokuchaev Soil Science Institute, 2008. 182 p. (in Russian)
Hammer O., Harper D.A.T., Ryan P.D. PAST: Paleontological Statistics Software Package for Education and Data Analysis, Palaeontologia Electronica, 2001, V.4, Iss.1, 9 pages.
Hughes J.B., Hellmann J.J. The Application of Rarefaction Techniques to Molecular Inventories of Microbial Diversity, Methods in Enzymology, 2005, V. 397, p.292-308. doi: 10.1016/S0076-6879(05)97017-1.
Insam H., Haselwandter K. Metabolic quotient of the soil microflora in relation to plant succession, Oecologia. 1989, V. 79, Iss. 2, p. 174-178. doi: 10.1007/BF00388474
IUSS Working Group. WRB, World Reference Base for Soil Resources. International soil classification system for naming soils and creating legends for soil maps. Rome: FAO, 2014.
Ito N., Iwanaga H., Charles S., Diway B., Sabang J., Chong L., Nanami S., Kamiya K., Lum S., Siregar U.J., Harada K., Miyashita N.T. Geographical variation in soil bacterial community structure in tropical forests in Southeast Asia and temperate forests in Japan based on pyrosequencing analysis of 16S rRNA, Genes Genet Syst. 2017, V. 92, Iss.1, p.1-20. doi: 10.1266/GGS.16-00013
Jenkinson D. S., Ladd J. N. Microbial Biomass in Soil: Measurement and Turnover., Soil Biochemistry, 1981, V. 5, p. 415-471.
Kielak A.M., Barreto C.C., Kowalchuk G.A., van Veen J.A., Kuramae E.E. The Ecology of Acidobacteria: Moving beyond Genes and Genomes, Front Microbiol., 2016, V.7, Article No744. doi:10.3389/fmicb.2016.00744.
Kielak A. M., van Veen J.A., Kowalchuk G.A. Comparative Analysis of acidobacterial genomic fragments from terrestrial and aquatic metagenomic libraries, with emphasis on acidobacteria subdivision 6, Appl. Environ. Microbiol., 2010, V.76, Iss.20, p. 6769-6777. doi: 10.1128/AEM.00343-10.
Kirillova I.V., Argant J., Lapteva E.G., Korona O.M., J. van der Plicht., Zinovyev E.V., Kotov A.A., Chernova O.F., Fadeeva E.O., Baturina O.A., Kabilov M.R., Shidlovskiy F.K., Zanina O.G. The diet and environment of mammoths in North-East Russia reconstructed from the contents of their feces, Quaternary International, 2016, V. 406., Part B, p. 147-161. doi:10.1016/j.quaint.2015.11.002.
Li Y., Wu J., Shen J.,, Liu S., Wang C., Chen D., Huang T., Zhang J. Soil microbial C:N ratio is a robust indicator of soil productivity for paddy fields, Scientific Reports. 2016. V. 6. Article No35266. doi:10.1038/SREP35266.
Lladó S., López-Mondéjar R., Baldrian, P. Forest soil bacteria: diversity, involvement in ecosystem processes, and response to global change, Microbiol. and Mol. Biology Rev., 2017, V.81, Iss.2, e00063–16. doi: 10.1128/MMBR.00063-16.
López-Mondéjar R., Voříšková J., Větrovský T., Baldrian P. The bacterial community inhabiting temperate deciduous forests is vertically stratified and undergoes seasonal dynamics, Soil Biol. Biochem., 2015, V.87, p.43–50. doi:10.1016/j.soilbio.2015.04.008.
Männistö M. K., Rawat S., Starovoytov V., Haggblom M. M. Granulicella arctica sp. nov., Granulicella mallensis sp. nov., Granulicella tundricola sp. nov. and Granulicella sapmiensis sp. nov., novel acidobacteria from tundra soil, Int. J.Syst. EV. Microbiol., 2012, V.62, p. 2097–2106. doi:10.1099/ijs.0.031864-0.
Miyashita N. T. Contrasting soil bacterial community structure between the phyla Acidobacteria and Proteobacteria in tropical Southeast Asian and temperate Japanese forests, Genes & Genetic Systems, 2015, V. 90, Iss. 2, p. 61-77. doi:10.1266/ggs.90.61.
Miyashita N.T., Iwanaga H., Charles S., Diway B., Sabang J., Chong L. Soil bacterial community structure in five tropical forests in Malaysia and one temperate forest in Japan revealed by pyrosequencing analyses of 16S rRNA gene sequence variation, Genes & Genetic Systems, 2013, V.88, Iss. 2, p.93-103.
Nacke H., Goldmann K., Schöning I., Pfeiffer B., Kaiser K., Castillo-Villamizar G.s A., Schrumpf M., Buscot F., Daniel R., Wubet T. Fine spatial scale variation of soil microbial communities under European Beech and Norway spruce, Front. Microbiol., 2016, V.22, Iss.7, Article No2067. doi:10.3389/fmicb.2016.02067.
Naumova N., Makarikova R., Kuznetsova G. Biomass and activity of soil microorganisms under different pine species and climatypes, AgroEcoInfo. 2014. Iss. 3. Accessed July 02, 2018.
Naumova N.B., Kuznetsova G.V., Alikina T.Y., Kabilov M.R. Bacterial 16S DNA diversity in the rhizosphere soil of two pine species, Biomics, 2015, V.7, p.127-136.
Nesme J., Achouak W., Agathos S.N. et al. Back to the Future of Soil Metagenomics, Frontiers in Microbiology. 2016, V.7, Article No73. doi:10.3389/fmicb.2016.00073.
Pankratov T. A., Serkebaeva Y. M., Kulichevskaya I. S., Liesack W., Dedysh S. N. Substrate-induced growth and isolation of Acidobacteria from acidic Sphagnum peat, ISME J., 2008, V.2, Iss.5, p. 551–560. doi:10.1038/ismej.2008.7
Pell M., Stenstrom L., Granhall U. Soil respiration, Microbiological methods for Assessing Soil Quality. Wallingford:CABI International, 2005. p.117-126.
Ricotta C. Of beta diversity, variance, evenness, and dissimilarity, Ecology and Evolution, 2017, V.7, Iss.13, p. 4835–4843. doi:10.1002/ece3.2980
Siles J.A., Margesin R. Abundance and diversity of bacterial, archaeal, and fungal communities along an altitudinal gradient in alpine forest soils: What are the driving factors?, Microb. Ecol., 2016, V.72, Iss.1, p.207–220. doi:10.1007/s00248-016-0748-2.
Siles, J. A., Margesin, R. Seasonal soil microbial responses are limited to changes in functionality at two Alpine forest sites differing in altitude and vegetation, Scientific Reports, 2017, . V.7, Iss. 1, Article No 2204. doi: 10.1038/S41598-017-02363-2.
Soil Sampling and methods of Analysis. 2nd edition. Boca Raton: CRC Press; 2008.
Stavi I, Bel G, Zaady E. Soil functions and ecosystem services in conventional, conservation, and integrated agricultural systems. A review, Agronomy for sustainable development, 2016, V.36, p.32. doi:10.1007/s13593-016-0368-8.
Urbanová M., Šnajdr J., Baldrian P. Composition of fungal and bacterial communities in forest litter and soil is largely determined by dominant trees, Soil Biol. Biochem., 2015, V.84, p.53–64. doi: 10.1016/J.SOILBIO.2015.02.011
Vance E.D., Brookes P.C., Jenkinson D.S. An extraction method for measuring soil microbial biomass-C, Soil Biol. Biochem., 1987, V.19, Iss. 6, p.703-707. doi:10.1016/0038-0717(87)90052-6
VanInsberghe D., Maas K. R., Cardenas E., Strachan C. R., Hallam S. J., Mohn W. W. Non-symbiotic Bradyrhizobium ecotypes dominate North American forest soils, The ISME journal, 2015, V.9, Iss. 11, p. 2435-2441. doi: 10.1038/ismej.2015.54.
Wang Q., Li Y., Wang Y. Optimizing the weight loss-on-ignition methodology to quantify organic and carbonate carbon of sediments from diverse sources, Environ. Monit. Assess., 2011, V.174, Iss. 1-4, p.241-257. doi: 10.1007/S10661-010-1454-Z.
Wang N., Wanп M., Li S. et al. Effects of variation in precipitation on the distribution of soil bacterial diversity in the primitive Korean pine and broadleaved forests, World J. Microbiol. Biotechnol., 2014, V.30, Iss.11, p.2975-2984. doi:10.1007/s11274-014-1725-x.
Weber P., Bardgett R.D. Influence of single trees on spatial and temporal patterns of belowground properties in native pine forest, Soil Biol. Biochem., 2011, V, 43, Iss.6, p.1372-1378. doi: 10.1016/J.SOILBIO.2011.03.015
Wei Z., Hu X., Li X., Zhang Y., Jiang L., Li J., Guan Z., Cai Y., Liao X. The rhizospheric microbial community structure and diversity of deciduous and evergreen forests in Taihu Lake area, China, PLoS ONE, 2017, V.12, Iss.4, e0174411. doi:10.1371/journal.pone.0174411.
Wei H., Peng C., Yang B., Song H., Li Q., Jiang L., Wei G., Wang K., Wang H., Liu S., et al. Contrasting soil bacterial community, diversity, and function in two forests in China, Front.Microbiol., 2018, V.9, Article No1693. doi: 10.3389/FMICB.2018.01693.
Wolińska A., Kuźniar A., Zielenkiewicz U., Izak D., Szafranek-Nakonieczna A., Banach A., Błaszczyk M. Bacteroidetes as a sensitive biological indicator of agricultural soil usage revealed by a culture-independent approach, Applied Soil Ecology, 2017, V.119, p. 128-137. doi:10.1016/j.apsoil.2017.06.009.
Zhao Q., Zeng D.H., Fan Z.-P. Nitrogen and phosphorus transformations in the rhizospheres of three tree species in a nutrient-poor sandy soil, Applied Soil Ecology, 2010, V. 46, Iss. 3, p.341-346. doi: 10.1016/J.APSOIL.2010.10.007.
Žifčáková L., Větrovský T., Howe A. et al. Microbial activity in forest soil reflects the changes in ecosystem properties between summer and winter, Environ Microbiol., 2016, V.18, Iss.1, p.288–301. doi: 10.1111/1462-2920.13026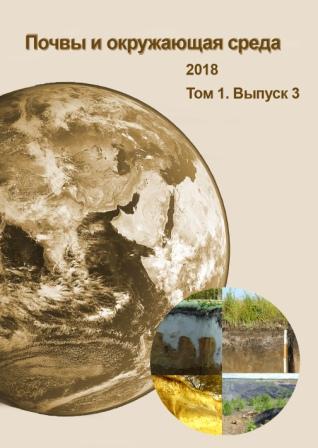 Как цитировать
Наумова, Н. Б., Аликина, Т. Ю., & Кузнецова, Г. В. (2018). Биоразнообразие бактериальных ансамблей в бурозёме элювиированном под сосной корейской. Почвы и окружающая среда, 1(3), 151-169. https://doi.org/10.31251/pos.v1i3.31
Раздел
Биология и биохимия почв
Copyright (c) 2018 Почвы и окружающая среда
Это произведение доступно по лицензии Creative Commons «Attribution» («Атрибуция») 4.0 Всемирная.